When Smiley and I were in public or talking about grown-up topics things were great. I enjoyed our time. I connected. We had the basics, the foundation of beliefs and values that is needed. He actually pursued and was a gentleman in a way that made me feel valued and respected. Where it broke down was in just hanging out and having fun.
Honestly, the more time we spent together and the more comfortable he got with me….well… the less I was attracted to him.
He's goofy. I'm goofy. But it wasn't the same kind of goofy. I didn't really laugh much. I didn't think he was funny and he tried so hard to be funny and it just made me feel awkward and bad.
I can't fake stuff very well. I'm just me. Occasionally I'll humor people if I absolutely feel that I have to in the situation, but for the most part I suck at it. I'm just an honest broad who ain't got no qualms about being genuine. And I'm not super great at schmoozing people. Needless to say, I can't fake having fun and laughing for the rest of my life so this was problematic.
I know that no matter who I marry I will have to deal with him doing annoying things and he will drive me up the wall in some way. I acknowledged this as my mom, my sister, Dreamer, and Charmer filled me in on the various ways that their husbands got on their nerves (the way he chews, the awful clicky noise he always makes, etc.)….but the problem with Smiley was that his annoying quirks made him seem SUPER unmanly and were an enormous turn-off. It makes me cringe just thinking about it. Their husbands were just doing things that, yes, were annoying, but didn't make them seem less manly in their eyes.
Now, please understand me. I think that Smiley is going to be a WONDERFUL husband to someone and make a really great girl very happy. I genuinely do. That girl just isn't me.
As I've mentioned, I am an INFP (only a slight F though). I don't express my emotions a ton, or at least not with words to people. Occasionally I'll write a blog post to process. Occasionally I'll try to put my feelings into words and it usually is a process because I don't know how I feel the majority of the time, nor does it really concern me. I have emotions. I feel them. I don't feel the constant need to express them.
Smiley is an ISFJ. The world of an SF-type generally exists in the now. Meaning, what they see before them is their reality and they will have an emotional response to it. They have lots of feelings and those feelings are powerful and dominant. Bushbaby is an ISFP. She needs reminding in a tangible sense (words or a hug or a smile) that she is loved and everything is good. She also expresses her emotions more often. Even if she knows that she is loved by someone, it's hard for her to accept that and feel peaceful if she's not sensing it and she will feel turmoil about the situation until she's reassured in a tangible way.
Smiley was the same. Only, he felt the need to talk about his emotions ALL THE TIME. At first he was constantly bombarding me with texts about his excitement and his feelings and his feelings and emotions and feelings…until I told him in a very nice way that I needed some space because I don't work like he does and I'm trying to figure out my feelings and that's hard to do when I don't have space to even process them. How can I know if I'm excited to see you when you are constantly telling me about your excitement. It's hard to react to someone's excitement and emotions when you don't know how you feel, and yet there's a pressure to react when someone is constantly emotioning on you.
This is what I learned that I need. It's perfectly ok and good for a man to have emotions. I don't want to marry someone who can't communicate and is completely stoic. I don't want a robot or someone heartless. Future Husband, HAVE emotions. FEEL things. But please don't feel the need to express them 98% of the time. I can't take it. I'm the girl. I want to be the more emotional one, or at least not have you be WAY more emotional than me. I can't deal. I will be nurturing and take care of your heart, but I can't baby you. And I'm not a gusher. I'm never going to go on and on about how I feel. Nor am I going to text constantly throughout the day. Need mah space! Nor am I going to constantly reassure you 20 million times that I do, in fact, like you and am glad to see you. I need someone who is also intuitive to know that I love them because I'm spending time with them. Who will know that I love them not only because I say it, but because they know me and they just know. They can have the fact of my love in their head and just trust it. Again, expressing love is important, but trusting it and not needing to say it constantly is important, too. To me anyways, because that's how I'm wired.
He needs someone like him. I've met girls who, similarly, need to be reassured. Who need love expressed over and over all the time. Who love to share how they feel and who KNOW how they feel most of the time. I'm very hopeful he will find that.
I also learned that it is more important that I find him manly than that we are both nerdy. Smiley and I had many things in common, but when it was all said and done having those common interests wasn't enough to make up for the lack of masculinity.
I'm sure you want to know what he did that was so unmanly? Well, he REALLY liked cutesy things. And, you know, it's okay for a man to think things are cute! I'm cool with that. But how a man expresses it can really alter a woman's perspective of him. For example, if you're watching a movie and there's a cute animal, it's cool if the guy says, "Aw," or, "That's cute." The woman goes, He's secure enough in his masculinity to admit he thinks something is cute! But if he starts squealing like a little six-year-old girl over the cute animal and bouncing up and down on the couch…well…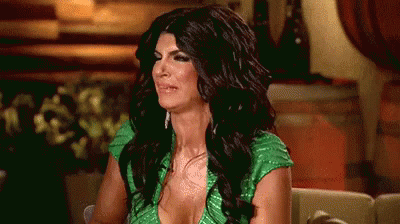 WHAT IS HAPPENING!?
He also would send me "Cutes" as he called them which would be various pictures or videos of cute animals. I can appreciate cute things but that is not how you woo me. Just…what? And he actually used the word "Squeee" in his text messages.
"I'm so excited to see you Saturday! Only two more days! Squee!"
Me:
and why? WHY!? Why are you a middle-school girl!?
Seriously, it makes me shudder a little just remembering some of these occurrences. And there were plenty of other things that added up but those effeminate reaction moments were by far the most painful.
When I ended it he got very upset and it was not a fun conversation. I honestly had done my best to do right by him and when I ended it I tried to be as kind as possible. But he was mad anyway. I know he was disappointed but he kind of accused me of leading him on (to which I replied that I told him as soon as I knew it wasn't going anywhere) and then accused me of being very closed off and walled (which I didn't respond to, but know is bull because I was as open and honest with him as I could be). I felt like he reacted as though I was ending a long-term and serious relationship when the truth was it was 6 dates. I knew he was speaking out of his emotion, but I wished he'd shown more grace or at least had the sense to not emotionally vomit all over everything. But he wasn't done. An hour later I received a text from him. And if I needed any more reassurance that I'd done the right thing I certainly got it.
He told me he loved me. He said he needed me to know though I didn't feel the same. He said he loved me "in the purest form of I Corinthians 13." Then he said something about "thanks for the best of times."
And then he added a weepy emoji.
A WEEPY EMOJI, GUYS!!!
This one!
Me:
I didn't respond. There is no correct response to that Hail Mary or last farewell or whatever the hell it was. Thank you, Smiley, for embarrassing us both by rashly deciding to text before you'd managed to climb out of your emotions box.
I'm sad that I hurt him but overall I don't regret dating him. I'm a little bummed it ended so unnecessarily icky but that's part of dating.
It did help me see that, even though he wasn't the whole package, there are still men of character out there who are single and who will pursue. And I got to know myself a little better and what is important to me and what isn't when looking for a spouse.
So I'm going to chin up! Overall this dating experience was a win!